Psychological Safety At Work and At Sea

(c) 2019 Full Sail Leadership Academy
3
min read
There has been a great amount of research on the benefits of a psychologically safe workforce and how it improves employee engagement.
When engagement improves, productivity and profitability improve, and lost-time incidents drop dramatically.
The process of teaching about psychologically safe workplaces is very similar to teaching safety on sailboats. The skipper's number one job is to ensure the safety of his or her crew. This article will explore the similarities and discuss how you can apply principles from the world of racing on the high seas to work in your organization.
When team members are afraid to voice their opinion or ask a question, they view their workplace as an unsafe and dangerous place. The moment this happens, employees disengage from the dialog and the vision of the organization. These employees are like the sailing crew member who does not alert the skipper to danger because of fear of how the skipper will react. They put the vessel, and everyone on it, in peril.
Employees that disengage because they view the workplace as psychologically unsafe, can put their organization in jeopardy of losing business. As a result of a disengaged team member, key employees can vanish like valuable crew members to the sea of competitors.
Education and Experiential Learning is the Key
New workers learn their role in an organization best when they feel it is safe to admit they do not understand something completely. They ask questions to clarify their ambiguity. These same workers learn from mistakes when they are coached with care and concern versus condemnation and coercion.
I have been a crew member on racing boats where the skipper and first mate belittled new crew members for mistakes and questions. When the new crew members held their questions or acted timidly due to fear of failing, accidents and dangerous situations usually followed close behind. Their fear and timidity put the other crew member's lives at risk.
The investigation into the crash of Asiana Flight 214 in July 2013 concluded: "Among the other issues raised by the investigation are some that long have concerned aviation officials, including hesitancy by some pilots to abort a landing when things go awry or to challenge a captain's actions."
Three people died in this crash and 200 people were seriously injured.
In 2010, the BP Deepwater Horizon Oil Spill occurred due to "a failure to share critical information from their onshore staff, as well as reports from their drilling partner" according to US Coast Guard reports. Sadly, eleven men lost their lives due to this communication failure and almost five million barrels of oil were discharged in the Gulf of Mexico.
Several years ago, I worked for a former three-star Army general. We were having a discussion of a potential move that would take me from managing a territory to working on the corporate staff marketing team. I was asked to name who would be key players on my potential staff and who may need to move on.
Knowing the General had his own opinion, I asked: "Sir, how candid can I be?".
I will never forget his response when he said "In the military, we have a motto that says 'lack of candor can kill'" I was then told that total candor is what he expected. This experience would turn out to be one of my best experiences in learning. Second only to the lessons learned while sailing.
The Teams on Course Model Prevails
In December of 2014, the $6 million dollar racing yacht "Vestas Wind" crashed onto a shoal in the Indian Ocean while traveling at a speed of 22 knots (25mph). The crew failed to check "old fashioned" paper charts and simply relied on what they saw on their chart plotter. Most importantly the navigator failed to communicate his lack of checking all the details until after the accident. They knew the mission but failed to share information.
Often sharing information falls apart when there is a lack of trust and respect.
The Full Sail Model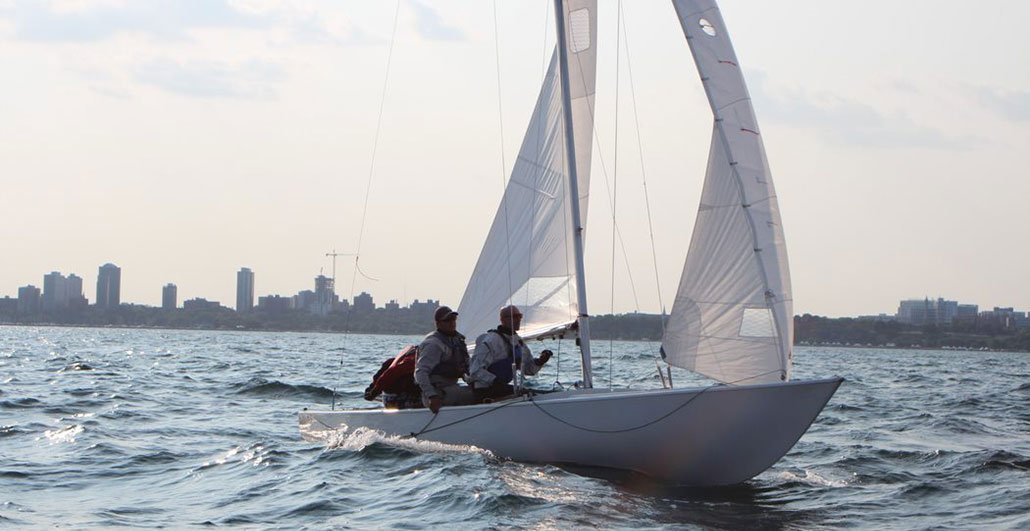 The Full Sail model teaches that shared language flows first from understanding and believing in the vision and mission.
Furthermore, it teaches that shared language must be rehearsed and continually practiced to build trust and respect. Once learners absorb these concepts in the classroom, they have the opportunity to anchor the learning by putting the concepts into practice while sailing.
Let's start a dialog about the communication issues that may be holding you back from creating a psychologically safe workplace. Improving how your team views their ability to share ideas, opinions, or questions can have an impact on profitability and productivity. Contact me today!
https://fullsailleadership.com/wp-content/uploads/2019/12/cost-pyschologically-unsafe-workplace.jpg
630
1200
Tim Dittloff
https://fullsailleadership.com/wp-content/uploads/2019/04/full-sail-leadership-academy-logo.png
Tim Dittloff
2019-12-04 16:18:37
2019-12-04 18:07:47
Psychological Safety At Work and At Sea