6
min read
What can make a person's palms sweat?  Knees knock?  Mouth run dry?
There are many answers, of course.  But let me press you to be introspective for a moment.  What have been some of the most nerve-racking moments in your life?
When facing an imposing obstacle?  When you're down to your last dollar?
OR
When you must honestly, vulnerably express how you feel?
Putting your heart on the line can be terrifying.  Maybe that's why many wedding proposals are so elaborate!  Even when you know they will "say yes," it can still feel unnerving to put your heart in the hands of another.
This dynamic is also at play when you humbly encourage others.  You open yourself up and become vulnerable.  For a moment, you put yourself at their mercy.
You drop your guard, put your cards on the table, and expose a part of your heart.  This puts the other in a position of power – to receive, reject, dismiss, or try to take advantage of your openness.
To encourage is to be vulnerable.
That vulnerability holds the power to galvanize your team so that you can sail through the stormiest seas.  It can give your business an edge over the competition.
Encouragement in the workplace is essential.  It can be the difference between surviving an unstable economy and closing up shop.
Creating a culture of encouragement in the workplace starts at the top.  If you dare to encourage your team vulnerably, you will make an impact that stretches much further than a dollar.
You'll make the world a better place.
The Current State of Encouragement in the Workplace
The American Psychological Association recently found that nearly 20% of employees feel they are enduring a very or somewhat toxic workplace environment.
What are the repercussions of a toxic workplace culture?  According to research done by MIT, a toxic workplace culture is ten times more likely to cause employees to leave.
Don't overlook the ripple effects of this.
If a parent is discouraged at work, how engaged will they be at home?
If a workplace is toxic, how much energy will a person have to help their neighbors?
There is a silver lining, though, for quality leaders who care about their employees.  Jeff Bezos once said, "Your margin is my opportunity."
Well, their toxicity and discouragement are YOUR opportunity!
Patrick Lencioni hits the nail on the head when he says that "health trumps everything else" in business.
People want to be valued and treated with dignity.  Most employees don't mind working hard.  They, like you, want their work to be fulfilling and make a difference in the world.
Cultivating a culture of encouragement in the workplace can accomplish this.  And this may be the best part for leaders – it's free!
What Encouragement in the Workplace is Not
Before we can process how to encourage others at work, we must clarify what encouragement is not.
Encouragement is not:
Flattery
Manipulation
Praising Evaluatively
Cheerleading
If you mistake encouragement for any of these categories, you'll create either a shallow or skeptical environment.
Flattery, praise, and cheerleading can be shallow when they are superficial in focus.  And they allow you to keep your guard up.
"Encouraging" employees for the primary purpose of productivity or change – is manipulative.  Of course, there is nothing wrong with encouraging an employee to complete their tasks.
Like people cheering others on at the end of a marathon.
But that's different from coercive positive affirmation to influence others to make decisions they wouldn't intrinsically desire.
It's like a kid who talks their sibling into doing their chores because of "how good they are at taking out the garbage."
Eventually, people will see through this.  When that happens, it will create a culture of skepticism.  People deserve better.  You can give them better.  You must.
Genuine encouragement in the workplace is currently a rare commodity.  Lack of encouragement in the workplace is driving good employees away from many companies.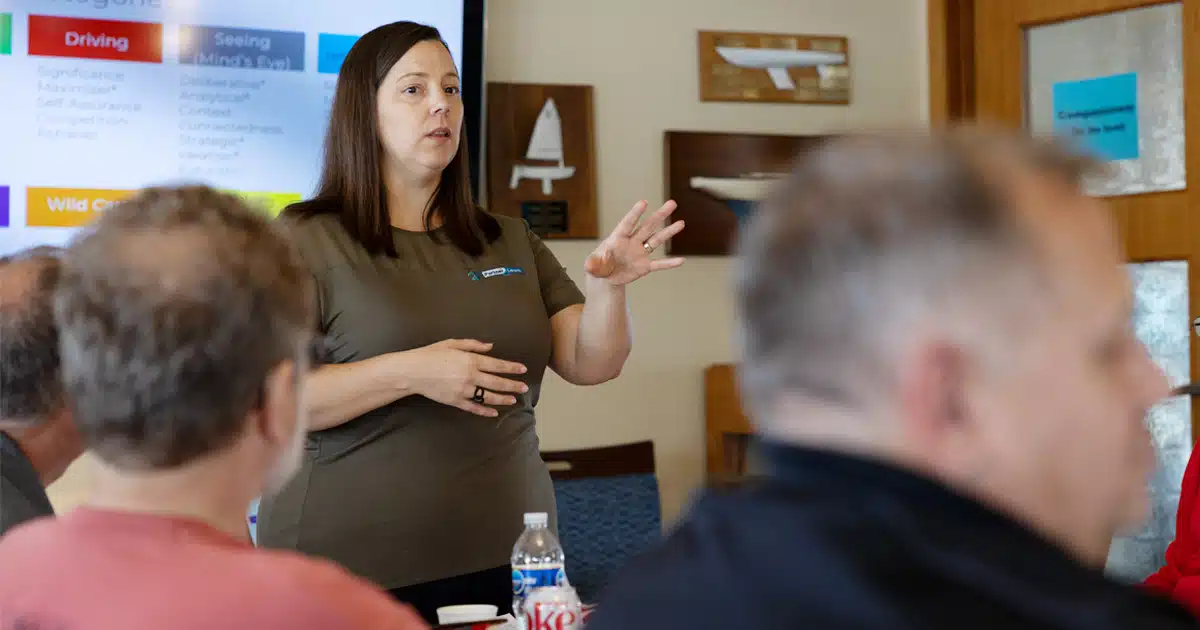 4 Steps to Cultivate a Culture of Encouragement in the Workplace
Several dictionaries offer the following definition for encouragement:
"To inspire with courage, spirit, or confidence.  To stimulate by assistance, approval, etc."
This is more than positive affirmation, though that is included.  It's vulnerably approving who people are and appreciating the skills they bring to the table.
Genuine encouragement is taking the risk to vulnerably express how you feel about your team.
Here are four steps you can take – for free – to cultivate a culture of encouragement in your company.
1: Being an Encouraging Leader Starts by Encouraging Yourself
GiANT Co-Founder Jeremie Kubicek encourages leaders to identify how they talk to themselves.
How do you encourage yourself?
How you encourage you is likely how you will encourage others.  Consider the following questions.
How do you talk to yourself when you make a mistake?
What thoughts run through your head when work gets overwhelming?
What do you think when you achieve success?
When you're ready to quit – what do you say to you?
Why?
Do you find that you beat yourself up?  Blame others?  Take responsibility, try to learn from mistakes, and move forward.
Knowing how you encourage yourself will help you – and your team – understand how you lead others.  And why you lead them that way.
2: Be Honest About How You View Your Employees
You're not going to be best friends with every employee.  You'll enjoy some more than others.  Some will have higher competency, better availability, or greater EQ.
That's not in question.  It's just reality.
The question you must ask yourself is – how do you view your employees?  Do you see them as holistic human beings with a life outside the office?
Do you understand that they may have hopes and fears that have nothing to do with work?
Are you willing to listen to them without judgment to understand where they may come from?
Even if difficult conversations or decisions are needed – you can still do so in an encouraging way.  Every person adds value to this world beyond what they produce at work.
Embrace the inherent value of each employee's humanity – and your heart will open up to offer more substantial encouragement.
3: Invite Feedback From Your Team
"Being boss doesn't mean you have all the answers, just the brains to recognize the right one when you hear it."
Just like Jack Kelly did in the Newsies, we all need someone like Katherine Plumber to give it to us straight!
Inviting feedback from your team amplifies encouragement.  Asking your employees for their perspective demonstrates how much you value them.
That's encouraging!
When people are invited to the table, something powerful happens.  You gain insight.  They feel empowered.  Comradery grows.  Momentum builds.
One of the critical factors in employee engagement is whether they feel heard.  95% of highly engaged employees report feeling heard, while 55% of the actively disengaged report not feeling heard.
When you hear how your employees would feel encouraged, you'll find they may desire something other than what you naturally offer.
That's ok!  Having clarifying conversations builds trust and provides an opportunity for everyone to grow – together.
Whether it's a survey, conversation, retreat – just be intentional.  Once you gain the feedback you need to offer meaningful encouragement, the next step is implementing what's reasonable and achievable.
4: Take Practical Steps to Cultivate a Culture of Encouragement in the Workplace
Begin by reflecting on the previous three steps.
How do you encourage you?
How do you view your employees?
How can you invite feedback?
Learn how you encourage yourself – and how you want to be encouraged.  Change starts with the person in the mirror.
Put in the work necessary to view the individuals on your team as holistic human beings.
Determine the forms of feedback you want to pursue and schedule a time to engage in that process.
Once you have this information, then you'll be able to develop an implementation plan.  That requires personalization beyond the scope of this article.
But not beyond the scope of Full Sail Leadership Academy!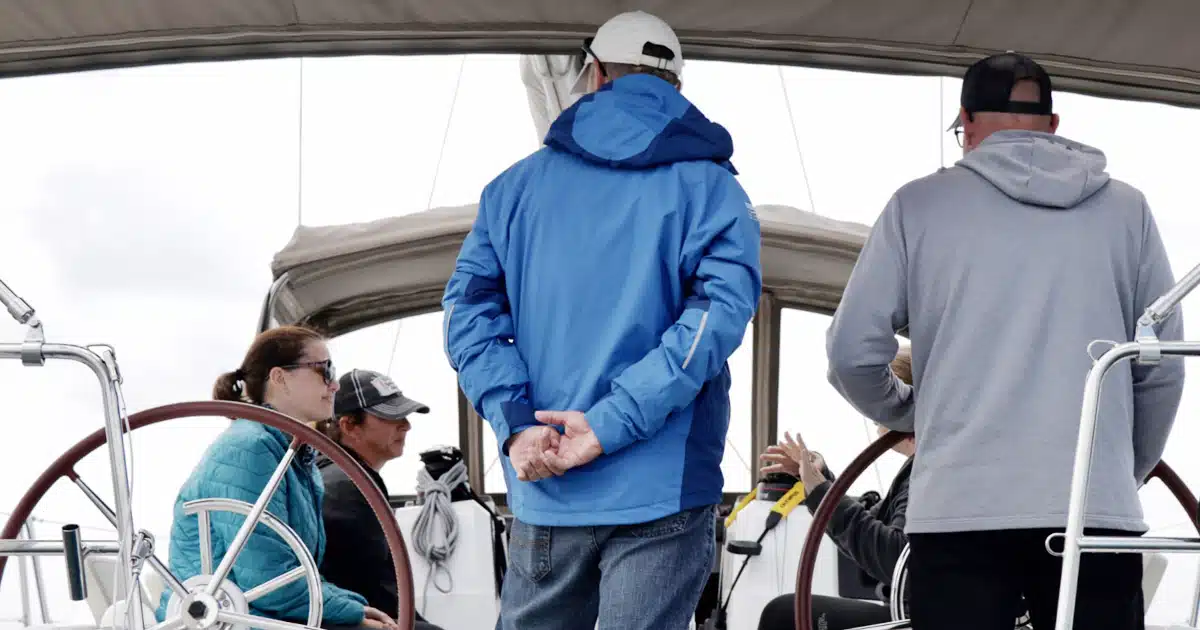 Start Your Journey of Leadership with Encouragement Today!
You don't have to go it alone.  We're here for you.  Our workshops provide a tailor-made experience to reveal the information you need and provide the support required to catalyze positive change.
We'll get your whole team on the sea for a teambuilding experience they'll never forget!
But first, we start in the classroom.  During this time, we ensure everyone understands their role on the vessel, gains shared language and can contribute safely.
Then, we hit the water!  Few experiences require unified teamwork more than sailing.  The lessons learned on the sea will have a lasting impact on your organization.
Our debriefing time will make sure of it!  Once we're on the land, we'll process major learning points – not just of sailing, but of your team culture, the strengths you can build from, and areas that may need to be strengthened.
You'll leave with an actionable plan and have access to our consultants to help you stay on course.
The time is now.  This is your opportunity.  Together, we can make the world a better place by making your workplace better.
https://fullsailleadership.com/wp-content/uploads/2023/11/encouraging-work-team.jpg
924
1640
Tim Dittloff
https://fullsailleadership.com/wp-content/uploads/2019/04/full-sail-leadership-academy-logo.png
Tim Dittloff
2023-11-24 08:25:44
2023-11-24 08:25:44
Encouragement in the Workplace During an Unpredictable Economy