How Crafting Shared Language within an Organization Prepares Your Team to Thrive

7
min read
Do you still "roll down" the window in your vehicle?  How much longer do you think that phrase can last?  Think about it.  When was the last time you actually rolled down a car window?
We don't.
We press a button, and the windows go down electronically.  The day is fast approaching when the phrase "roll down the window" will be as useful as hieroglyphics.
Although, with the advent of emojis, some argue that the ancient Egyptian writing system is making a comeback! 😉
Cultures are cultivated through words. Agatha Christie's character, Detective Hercule Poirot, said it well, "Our words speak us." We communicate what we care about.
What matters most to us eventually presents itself with the words we use.
People developed nuanced ways to describe frozen precipitation in cultures dominated by snow.  The locals north of the continental US have over 50 words for snow.
This enduring human phenomenon also exists in your life – and company.  Skilled leaders recognize how language reveals values and shapes culture.
You can leverage the gift of communication to care for your team.  Crafting clear, compelling, collaborative language eliminates confusion, cultivates unity, and empowers the mission.
Words are a Powerful Force in the Workplace
Every leader's words shape their culture.  Whether they know it or not.  You have the opportunity to tap into the power of your words to care for the people you lead.
Some values will pour out of your heart effortlessly.  Your words will speak "you."  Other values require intentionality and discipline.
Leadership expert Patrick Lencioni identifies this difference as your core – and – aspirational values.
Core values are natural.  They truly reflect the heart of your company.  It's almost as if they choose you.  Aspirational values are what you hope to be but are not yet.
Both must be named and clearly communicated.
If not, people won't know what's expected of them.  Or why.
Like asking someone in 2040 to roll down their window in the car, they won't know what's expected of them, so they won't get the job done.
And that won't be their fault.
It's one thing for an employee not to complete a task.  It's another for them not to understand how you expect the task to be completed.
You may expect prompt communication from your team.  But even this simple and reasonable expectation carries an undertow that may not be seen – but is clearly felt.
What does "prompt" mean to you?  What platform should communication take place on?   Does the communication need to be respectful?  Laid back?  Kind?  Professional?  Familial?  Brief?
In today's world of AI integration, even the word "prompt" carries a new meaning.
Developing shared language that flows from clarified values is helpful and, in some cases, essential.
Preparing Words is Essential for Smooth Sailing
Shared language can be defined as: "people developing understanding amongst themselves based on language to help them communicate more effectively."
Michael Rand with the BRM Institue highlights how shared language "helps coworkers communicate, collaborate, and innovate."
When a team is preparing to sail, everyone needs to have an absolutely clear understanding of the components of a sailboat, their role on the team, and the role of others.
Often, this requires "unlearning" some terms.  Or at least translating them.
Sailors must learn that what may look like a rope is not actually a rope – it's either a sheet, line, or a halyard.  Which object is meant depends on how that "rope" is used.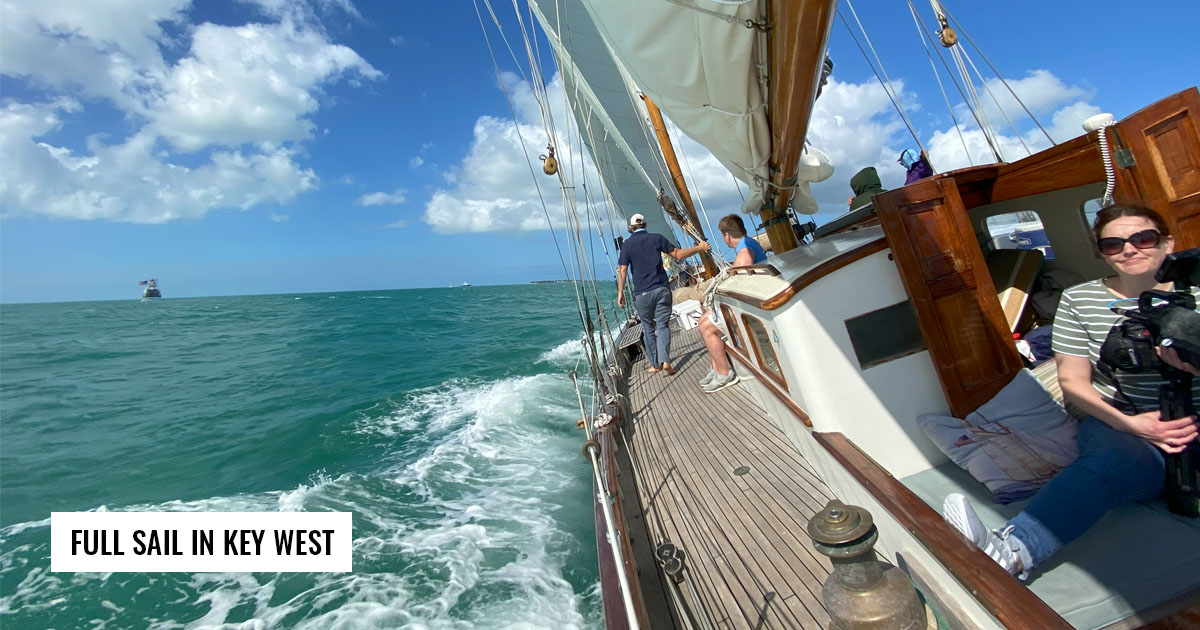 Likewise, a sailor doesn't "turn the boat." Rather the sailor tacks or jibes the boat. The "turn" is a tack when the bow passes through the wind. A jibe is when the stern turns through the wind.
Much like a sailor needs to know the shared language of sailing and specifically their crew, leaders need to teach the shared language of their organization to be effective.
4 Ways to Craft Words That Shape Workplace Culture
Crafting a common language has manifold benefits.  It clarifies motivations and expectations.  It sets clear pathways and boundaries for your team.
Shared language may even spare your team from running aground by empowering people to own the vision and values of the company and embrace their meaningful role in the bigger picture.
1. Identify and Embrace Core and Aspirational Values
Everything in your company ultimately flows from what you most value.  Your words speak you.  Own it proudly and communicate it loudly.
Who are you?  Who do you want to be?  Those are the kinds of questions you need to ask at this point.  Who you are is more important than what you hope to accomplish.
If you need help identifying your core and aspirational values, the generous "Develop Good Habits" team has compiled a list of resources to get you started.
Engaging in discovery exercises like this is often best in a team context.  Unless you're a solopreneur, consider carving out time with your leadership team to work through this step.
Once you've identified your core and aspirational values, you can begin to craft the shared language your team needs to thrive.
2. Start with Concepts
Many teams need help debating the nuanced meanings of similar words.  Choosing specific words is necessary but not at this step.
You want to ensure the concepts are clear at this point in the process. Don't be afraid to engage in dialogue – even with people outside your company.
Once you have named the concepts that capture your values, you can craft specific words and phrases to communicate your core and aspirational values.
3. Prioritize What is Communicated
Less is more.  Human beings are limited.  So are companies.  You cannot be all things to all people.  But you can be who you were designed to be.
Lencioni recommends a company clarify at most three core values.  He asserts that people simply do not have the capacity to embrace more.
Similarly, he recommends not going beyond five aspirational values.  These are values that ought to change with time.
Your company, and the human beings that make it tick, can only focus on a limited number of priorities at a time.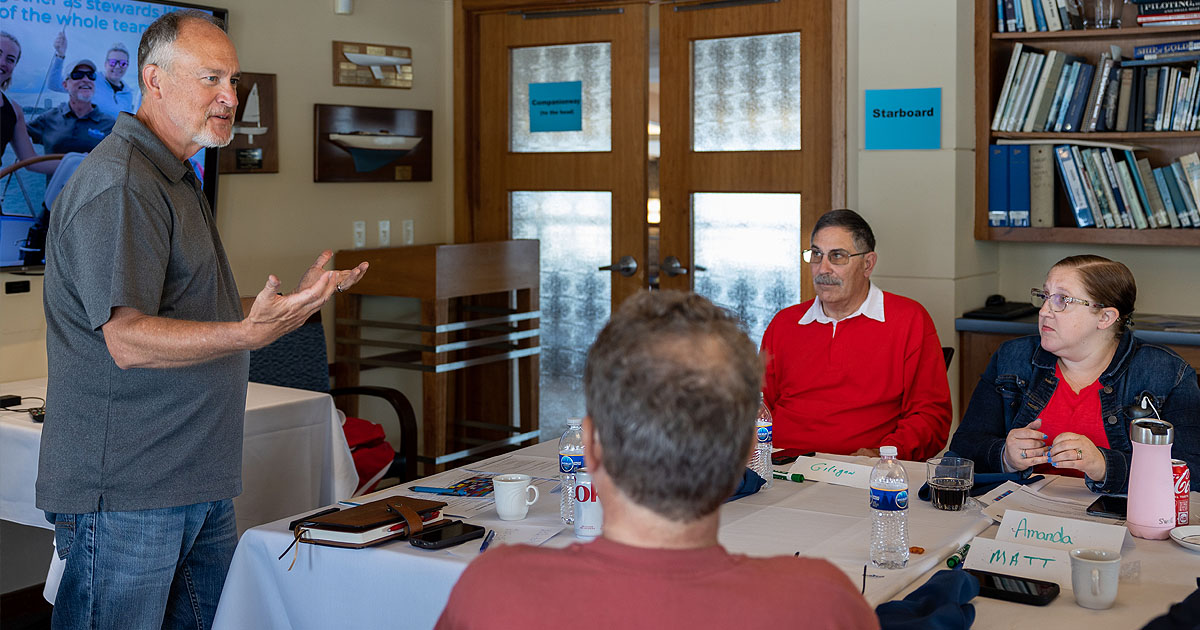 4. Communicate Your Values Consistently
Donald Miller says it well, "clear is better than cute or clever."  You aren't trying to impress people.  You're trying to serve them.
No one should be surprised by or unaware of your expectations or values.  Clear communication of these critical points sets everyone up for success.  Your team can gain an edge utilizing communication strategies such as:
Employee handbooks
Onboarding material
Verbally
Just like when we're preparing a team for sailing, new employees ought to be given everything they need to succeed with your company.
Crafting Shared Language Pushes Leaders to Prepare
Identifying, crafting, and communicating your values requires a lot of behind-the-scenes work.  In fact, preparing your team well will be an investment you make – of time, money, and energy – that will not pay off immediately.
But it will benefit everyone involved.
Preparing to take a team sailing requires an exorbitant amount of energy.  But when we're on the sea, facing the wind, fighting the waves – everyone is glad we prepared while in the safety of the harbor.
Shared Language Prepares Proper Boundaries
Bill Belichick, the most successful coach in NFL history, is famous for saying, "Do your job so someone else can do theirs."
It is just as important for your team members to know their responsibilities – as it is for them to understand what they are not responsible for.
Like banks on a river, knowing where our responsibilities end allows us to channel our energy for the greatest efficiency.
Shared Language Prepares People to Engage in a Shared Mission
People need to connect to something bigger than themselves to feel fully alive.  The work you offer ought to do more than provide what's needed to pay bills.
Menial tasks are transformed into something meaningful when people see how each part is necessary to create a greater whole.
Leaders need to live in reality.  And the truth is, no one always enjoys every part of their job.  Clearly demonstrating how each part of a person's job connects to the organization's vision, values, and mission can inspire people to find motivation in the mundane.
Preparation Brings Clarity to Confusion
Do you want to reduce unnecessary confusion in your organization?  Then you need a shared language that prepares your team to function within your company's values.
Henry Dodd's insight rings true.  He said, "The reason most people do not recognize an opportunity when they meet it is that it usually goes around wearing overalls and looking like Hard Work."
Clear communication and shared language set the course for preparing people to thrive in their vocation.  When your team understands and owns your company's vision and embraces its role within the bigger picture, many common problems are eliminated.
Let's go back to the example of expecting prompt communication.  If you properly prepare your team, they will know the following:
What "prompt" means
Where the communication should take place
How they should communicate
And most importantly – why all of these are valued
Put Communication to Work Outside of the Workplace!
Do you want to see the value of putting all of this to work for you?  Then reach out today to join one of our workshops.
Everything discussed in this article will come to life – not only for you, but for your team.  We begin our workshops by preparing you with a classroom discussion.
During this time, we cover all the pertinent information and communication you need to have for a successful and enjoyable sailing experience.
Then, we put the preparation into motion on the ocean!  Or the lake.  Either way, your team gets out on the water and experiences the values and necessity of preparation and shared language – in real-time.
When we're done, we'll debrief.  But even more, we offer a 12-month plan with actionable steps to enhance your organization's health.
Don't procrastinate.  Your best days are ahead.  We would be honored to guide you there.  Together, we can make the world a better place by making better workplaces.
https://fullsailleadership.com/wp-content/uploads/2023/05/shared-language-team-building.jpg
630
1200
Tim Dittloff
https://fullsailleadership.com/wp-content/uploads/2019/04/full-sail-leadership-academy-logo.png
Tim Dittloff
2023-05-12 17:14:33
2023-05-12 19:59:31
How Crafting Shared Language within an Organization Prepares Your Team to Thrive