Feedback That Allows Your Team to Flourish

5
min read
Kelly Clarkson took the world by storm in the early 2000s.  She cruised through a competition that captivated America's attention.
American Idol mixed the elements of a story that grabbed America by the lapels and demanded we do not look away.
Drama.  Talent.  Risk.  Humor.
Much of the humor came at the expense of people who did not know they had no place sharing a stage with Kelly Clarkson.
Someone somewhere should have told some of the contestants that their future was not as a vocalist.
But no one gave them that feedback.  And they suffered because of it.
Providing meaningful feedback is an essential responsibility entrusted to leaders.  Leaders are uniquely positioned to guide people toward paths they can flourish on.
Leaders can help people build on areas of strength, growing from good to great.
Most importantly, leaders can help people embrace the reality that their value runs deeper than what they achieve or how they perform.
How can you provide the kind of feedback that causes your team to flourish?
Evaluating Beneath the Waterline
Before you can provide healthy feedback to others, you first need to be able to assess your motivation. John Maxwell convincingly demonstrates how emotional intelligence is an indispensable skill for leaders.
To see beneath the waterline, ask yourself these four questions:
How do you feel about providing feedback to your team members?
Why do you feel that way?
How do you feel about the people on your team?
Do you know why you feel that way?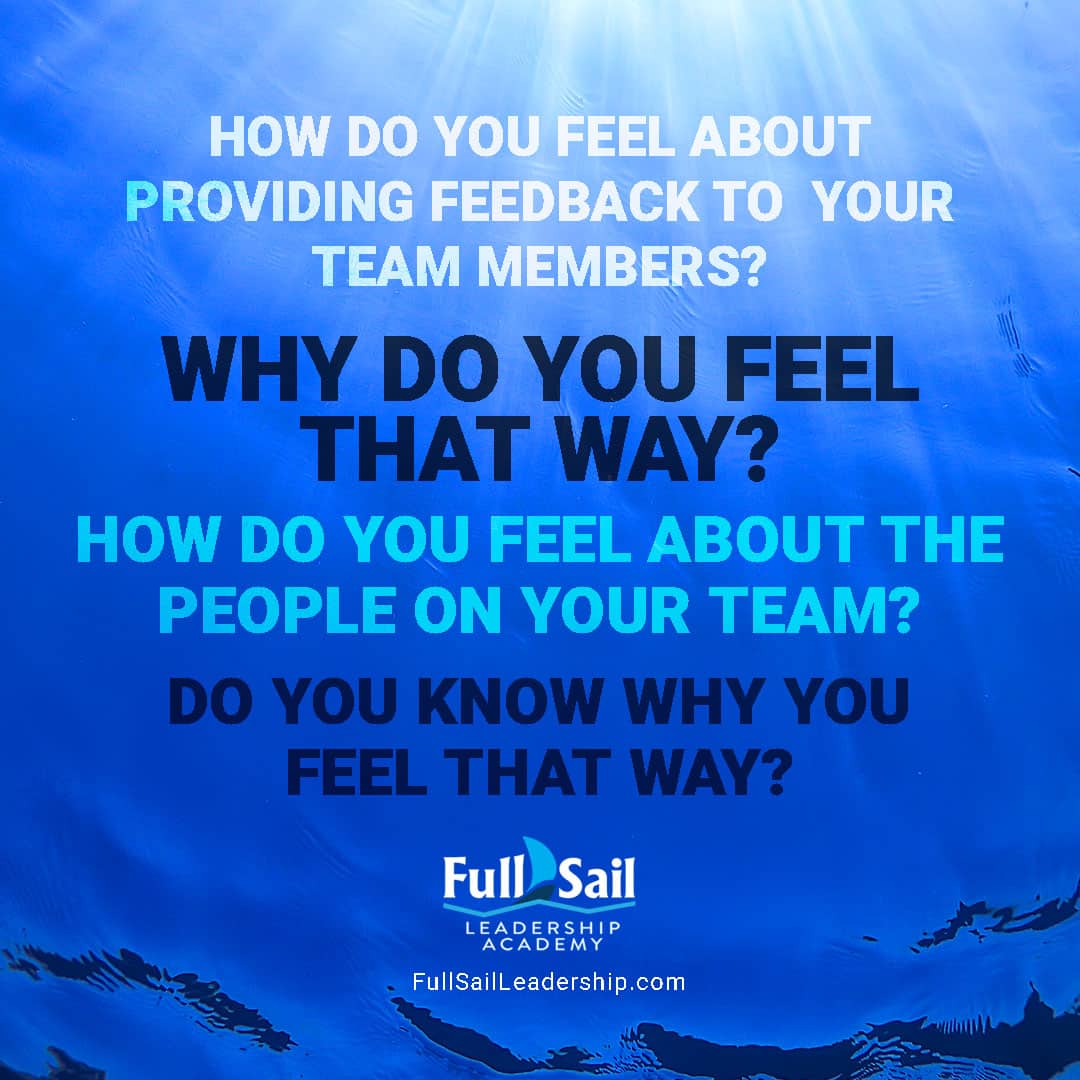 Some leaders avoid providing constructive criticism because they like being liked.
Others may feel overwhelmed by their responsibilities; they don't have the margin to provide meaningful feedback.
Of course, some leaders may look forward to having objective documentation to justify discipline or even termination.
In reality, most leaders experience all of this at some point.
The key is – are you self-aware enough to know how you feel and why?
If you aren't, it will overflow onto your team.
Golden Rule for Providing Golden Feedback
While there is a multitude of forms, processes, and procedures for providing feedback, there is one perspective most people can agree on: we ought to treat others as we want to be treated.
Your feedback will be markedly improved if you apply this principle.
The impact will be felt not only in what you say, but in how you say it, and why.
As a sailboat captain, I help my crew members fulfill their roles to the best of their ability.   For the good – and enjoyment – of the entire team.
I also want my crew to be safe.  The open water requires constant attention.  Currents can impact our course.  The wind and waves can try to throw us off course.
What's beneath the waterline – the things we cannot see – may pose the greatest threat.
The crew cannot see all of this.  They must rely on their captain's feedback to sail successfully.
By doing so we are not only kept safe, but energized.  We return to the shore – and our lives – motivated to engage more fully with our loved ones.
A healthy leader can create this kind of culture in their workplace.  A culture where everyone is valued, understands their role, is allowed to improve, and is viewed as more than an employee.
When employees know you desire their absolute best, they may even be eager to receive constructive criticism.
Most people want to grow.  To improve.  They want a trusted coach on their side.  Your influence can have a ripple effect in people's lives that spreads much further than the company's bottom line.
When you treat your team this way, they will know that you do not equate professional performance with personal value.
Paradoxically, this will most likely improve performance.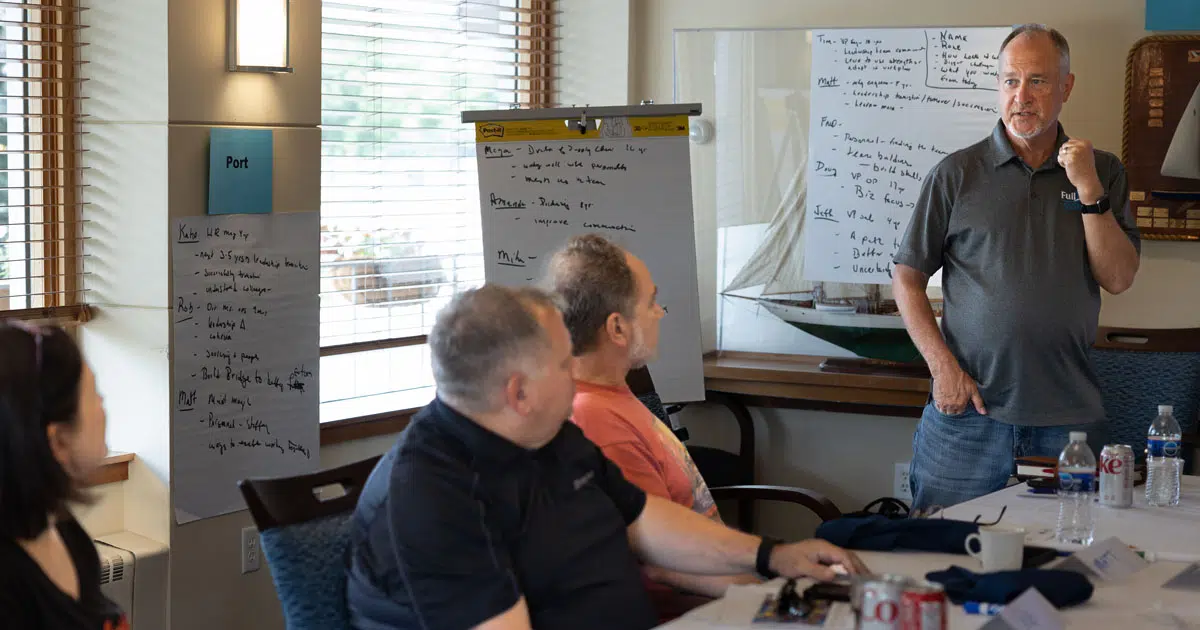 Three Components of Healthy Feedback that Cultivate a Healthy Workplace
Healthy evaluation should affirm employees in at least these three ways:
They are talented
They are valued on the team
They are valued beyond the team
They are talented
Every team member brings something to the table.  Research has found that building off strengths is more beneficial than correcting weaknesses.
Further, employees need the opportunity to improve and the tools to get there.  You may not be able to personally provide direct coaching to each employee.  [JS8]
But you should be able to point them to other tools and resources to help them in their journey.  Full Sail Leadership Academy is here to help you get there.
They are valued on the team
In his book, Building a StoryBrand, Donald Miller points out that humans are wired to belong to a tribe.  A community.  An employee evaluation provides a unique opportunity to affirm value.
Most people feel vulnerable when being evaluated.  Letting your employees know they are accepted for who they are and not just what they do will fill their sails with wind.
When employees know you care about them, positive feedback will feel sincere and constructive criticism will feel helpful.
They are valued beyond the team
You cannot be a best friend to all of your employees.  But that doesn't mean you can't take an interest in them beyond the office.
When my crew steps onto the sailboat, I must recognize that they bring bags.  Fears.  Worries.  Hopes.  Dreams.
Grandparents don't stop worrying about their kids just because they're at work.
An evaluation allows you to acknowledge the whole person in front of you.  Recognizing an employee's life outside work demonstrates that you understand they are more than a cog in a machine.
You can extend gratitude to a spouse or wish them well in a hobby.  But don't confuse this with a "technique."  It's caring about your employees enough to take an interest in them and affirm their value beyond your company.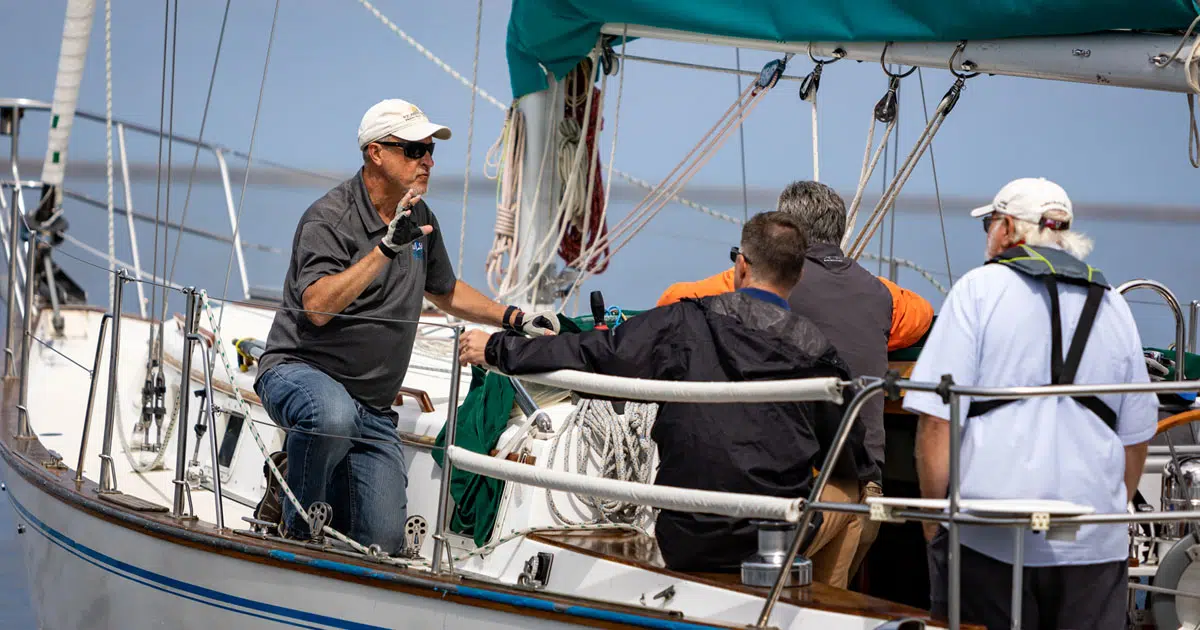 Build up your team by providing an unforgettable experience
Cultivating a healthy culture in the workplace doesn't happen overnight.  But there are ways to jumpstart it.
Our upcoming leadership summit is one of those ways.  For over 15 years  we have intentionally designed this experience to maximize the values that contribute to creating healthy workplaces.
Teamwork.  Evaluation.  Trust.  Fun.
Reach out today to learn how Full Sail Leadership Academy can help you make the world a better place by making your workplace better.
https://fullsailleadership.com/wp-content/uploads/2022/07/feedback-team-flourish.jpg
630
1200
Tim Dittloff
https://fullsailleadership.com/wp-content/uploads/2019/04/full-sail-leadership-academy-logo.png
Tim Dittloff
2022-07-18 14:40:24
2022-07-18 16:24:16
Feedback That Allows Your Team to Flourish