Building Up Through Connection or Burning Out Through Incivility

(c) 2020 Full Sail Leadership Academy
4
min read
There is a dramatic increase in incivility in the workplace. This incivility leads to burnout and lowers employee engagement. Conversely, building up and connecting with team members improves employee engagement and profitability. This article gives examples from corporate America and the world of sailing to help you build connections.
It Starts with Stewardship
As a steward of the people that work on your team, you make the decision every day to either build people up or burn them out. This decision determines whether or not you build healthy connections. If you build up and connect with your team members, they are more likely to be fulfilled at work and in many cases, in their homes. Your decision can improve what was once considered the "backbone of society." That may seem like a heavy burden to place upon leaders, but it exists whether or not leaders acknowledge it.
Building up and connecting has a dramatic impact on your bottom line
As connections grow, employee engagement rises. An increase in employee engagement results in an increase in profitability and productivity; this improves the bottom line. Taking action to build up your team members can be painless and free of financial costs.
Here are some examples from the business world and the world of sailing regattas.
What Corporate Research Says
Cisco Systems featured a recent article on the importance of something as basic as saying hello to co-workers and subordinates at work. The article talks about how the act of a simple hello led to greater inclusion in other meetings and events within the company. In another body of work, Georgetown professor and author Christine Porath's research shows that workplace incivility has risen dramatically since 1998.
Porath's work reports the following information:
As incivility rises in the workplace, 47% of those who were treated poorly decreased their time at work.  38% of those individuals said they intentionally decreased the quality of their work.
78% of those individuals reported feeling disrespected. The commitment to their organization dramatically declined.
Customer service decreases when employees are burnt out through incivility. In her research, Porath found that 25% of those who felt a lack of appreciation and disrespect took their out frustration on the customer.
Collaboration plummets when team members are treated rudely or maligned for sharing ideas. When this occurs, Porath found that workers are "three times less likely to help others and their willingness to share drops by more than half."
I have seen companies where new top leaders issued edicts and orders before getting to know their people or the culture of the company. Workers that were facing crises and change in their families due to death or illness now had to deal with a crisis of change in long-standing work culture. The story did not end well for the leaders and many employees who provided valuable service left the companies. The wake of their leaving left a void in customer service in their markets. Each week, I hear reports from workers across a multitude of industries. The top leadership walks through the office or factory without the basics of saying hello. There is no use of words like please and thank you, or asking how someone's day is going.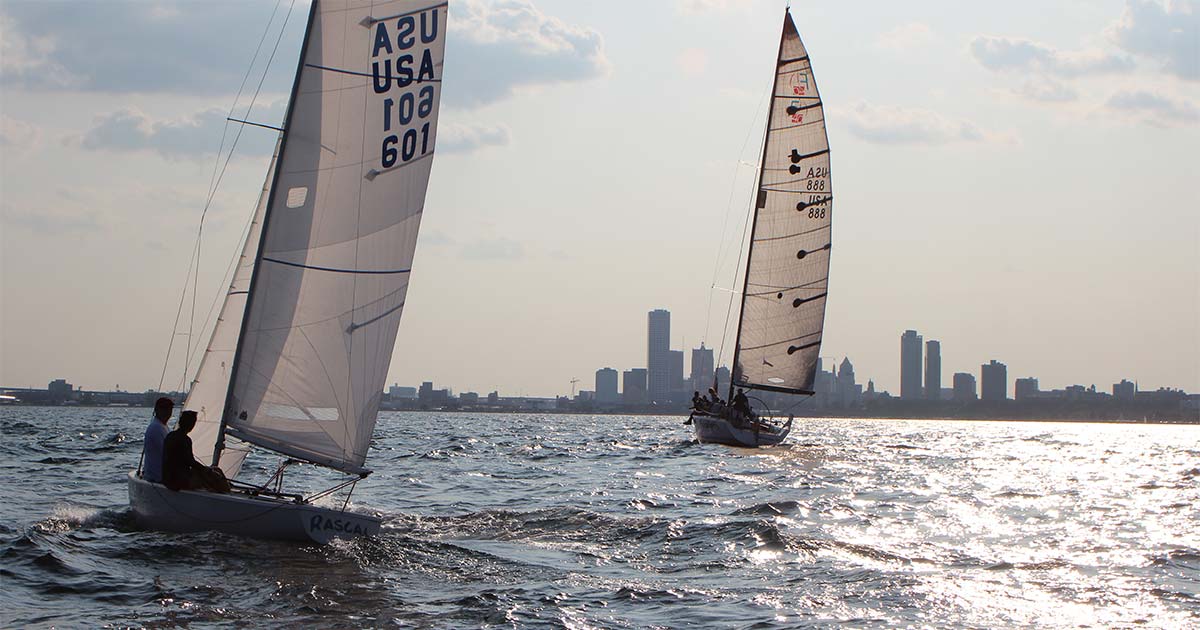 Lessons from Under Sail
Treating people with civility on the open water pays big dividends on racing teams, or when it comes to teaching people the basics of sailing.
I have been a crew member on boats that were designed purely for speed, yet these boats lost races to boats that were designed more as pleasure boats. The sleek design, the carbon-fiber mast, the state-of-the-art electronics failed to make a difference on the scoring sheet because the crew on board were mistreated, and the skippers failed to connect with his crew.
On the well-designed boats, crew members were threatened "not to screw up (by making a mistake)." There was little forgiveness, no encouragement to learn and grow, and no concern for the personal lives of the crew.
The older pleasure boats were a contrast in attitudes, and the attitudes made the difference.
The skippers on these boats truly care about the growth of their crews. When mistakes are made, there is forgiveness and a learning and growth opportunity. On top of this caring attitude, the skippers care about the personal lives of their crew. Turnover on the boats where the crew was not treated with civility was rampant, while turnover on the older pleasure boats was non-existent.
Sailing instructors that treat their students with respect graduate many more students than instructors that have higher degrees of incivility.
Building up employees impacts your bottom line
The bottom line is employee engagement. Employee engagement rises when the team has a greater connection to the vision of the organization, the values of the organization, and when they feel they have a voice in the organization. A sense of having a voice and being psychologically safe to voice opinions in the organization has a dramatically positive impact on the level of engagement. When we build up our team members, we increase transparency and build trust. These two factors also increase engagement.
The facts from Gallup show the bottom-line impact. What would you do with 21% more profitability and 59% less turnover?
Let's have a conversation about how you can increase employee engagement in your organization. Contact me for a consultation.
https://fullsailleadership.com/wp-content/uploads/2020/01/building-up-or-burning-out.jpg
630
1200
Tim Dittloff
https://fullsailleadership.com/wp-content/uploads/2019/04/full-sail-leadership-academy-logo.png
Tim Dittloff
2020-01-21 09:26:40
2020-02-27 07:46:46
Building Up Through Connection or Burning Out Through Incivility