4
min read
The cold waves of Lake Michigan lap at the sailboat. Above deck, a well-synchronized team works to trim the sails and maintain course over the choppy water.
But one young man sits by himself, watching his teammates work. He seems to be actively disengaged from the challenge at hand, and his coworkers mutter among themselves about his laziness as they shoot glares at him.
He senses their resentment, and it makes him feel even more alienated.
The truth is, he isn't lazy. He wants to help trim the sails but he doesn't know-how. And now that he sees the hostile looks and believes his teammates hate him, he feels like he can't ask them for advice and guidance to join in. It's better to sit quietly out of the way and let them handle the work.
This situation happens time and time again, in many different settings and conditions. Whether it's on a sailboat, in a construction zone, shipping center, office, or anywhere else, employees fall through the cracks when a lack of confidence causes them to stand on the sidelines.
They're missing out on leadership and growth opportunities, not to mention hurting the team by reducing productivity. This is a serious problem in today's workplace.
But how can steward leaders spot the signs and take proactive action to keep their teams working like a well-oiled machine?
3 Ways to Nurture Confidence for Team Building and Leadership Development
The hypothetical young man on the sailboat isn't an anomaly. Chances are, you know someone just like him.
Gallup estimates that only 36% of employees are engaged at work, while 13% are actively disengaged.
Lack of interest and motivation can be attributed to a variety of factors both inside and outside of the workplace. Employers can only do so much when their employees are struggling with personal issues beyond the scope of work, but some issues, such as lack of confidence or enthusiasm about the job, can be remedied.
In this article, we'll cover some basic tips to help you bring your team together for maximum efficiency.
1. Look Out for Warning Signs of Actively Disengaged Employees
Employees who have fully "checked out" at work can be detrimental to a company's bottom line as well as its overall morale among other employees.
Be alert for some of the warning signs of disengagement and employee burnout:
Lack of participation: This goes deeper than simply being an introvert. Actively disengaged employees are likely to stop participating in group activities. They don't form friendships with colleagues, don't speak up in meetings, and may even eat lunch by themselves to avoid socializing.
Too many breaks: While employees should be encouraged to step away from their desks every now and then to stretch, disengaged employees often take advantage of this with extra bathroom breaks, snack runs, and any excuse to avoid focusing on work.
Punctuality: Disengaged employees are usually the last to arrive and the first to leave. If confronted, they'll probably make excuses and avoid taking responsibility.
Negative attitude: This can take the form of sarcasm, defensiveness, belligerence, or disrespectful silence.
Absenteeism: Disengaged employees would rather be anywhere but work. They're likely to take sick days, even if they aren't actually sick, especially on Mondays or Fridays to get a long weekend.
Moderate to low work performance: Some disengaged employees may exhibit a drop in productivity or quality of work. Others will do just enough to get by. But in both cases, these employees are highly unlikely to go above and beyond expectations.
2. Take an Active Approach in Employee Goals, Needs, and Growth
An estimated 1 in 4 Americans plan to look for a new job as soon as the threat of the pandemic declines. Of those planning to leave, 80% cite a concern about their career advancement.
One of the most effective ways to engage and retain employees is to understand their needs, desires, ideas, goals, and long-term plans. Employees who feel like leadership listens and cares about them are more likely to feel engaged at work.
However, 86% of surveyed employees said they don't feel they're heard fairly or equally, which can take a devasting toll on confidence, satisfaction, and happiness at work. Likewise, employees who don't see the right advancement opportunities often feel stuck, like they can't climb any higher toward their aspirations.
If an employee is going to be engaged and make a long-term commitment, their goals need to align with the company. This might involve policy changes, upskilling, extra training, mentorship, classes, et cetera to retain and engage employees.
The important first step is to reach out, initiate a conversation, listen, and then plan accordingly and with empathy.
3. Invest in Team Building Activities to Boost Comradery and Confidence
In addition to addressing the concerns of individual employees, companies should also focus on the team atmosphere. Team-building activities bring many benefits to a workplace.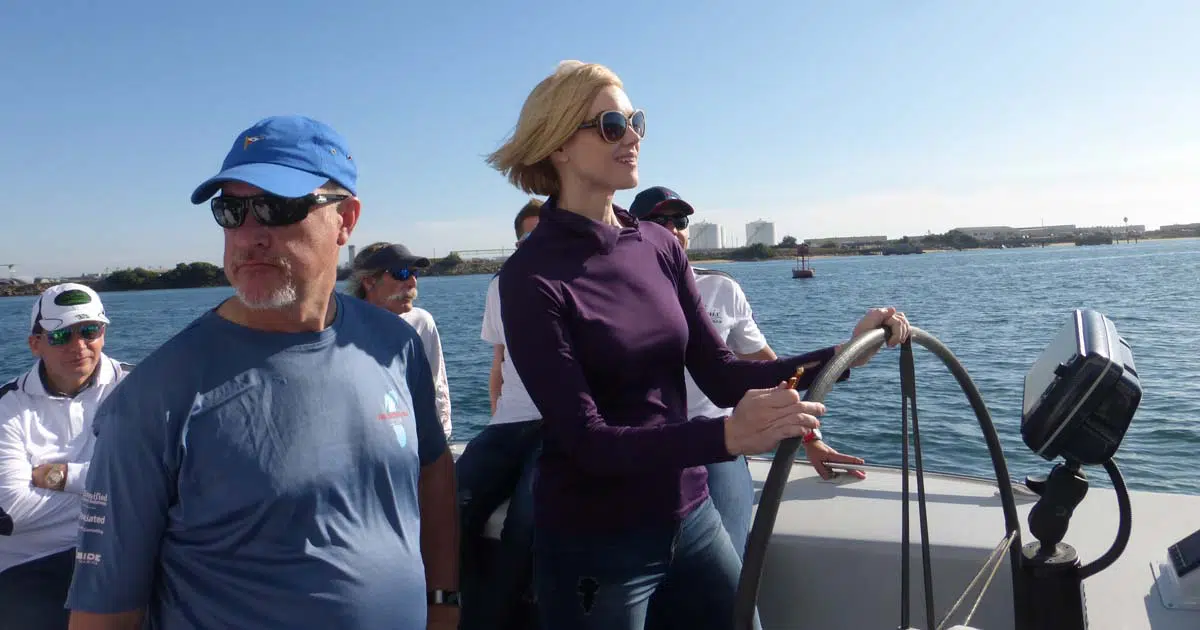 They help to break down barriers between coworkers, which in turn improves conflict resolution, reduces workplace clashes, and develops trusting relationships.
These benefits result in more confidence and respect. Colleagues are less likely to feel self-conscious about asking for help. They feel safer in a trusting environment and don't have to worry as much about being judged for admitting they don't know how to do something.
Leaders are Born from Confidence
If the man on the sailboat had a better relationship with his team, he probably wouldn't have felt as self-conscious about stepping forward and saying, "I'd like to help. Would you please teach me?"
Leaders are able to build stronger teams when they have confident members willing to help each other and learn. This productive, positive atmosphere doesn't just lift a company's bottom line with a more efficient workforce – it also fosters the kind of environment that produces more leaders.
Hiring is more expensive than retaining. Companies who make smart investments in their team can save a lot of money and time in the long run by fostering natural-born leaders to rise through the ranks with a priceless loyalty to the business that helped them grow.
Turn your disengaged employees into happy workers and leaders. You'll be amazed by all the positive changes that will follow.
A healthier work environment starts by taking an active interest in strengthening your team. Sign up for our Full Sail Leadership workshop and see the benefits of team building for yourself.
https://fullsailleadership.com/wp-content/uploads/2021/08/importance-team-building.jpg
630
1200
Tim Dittloff
https://fullsailleadership.com/wp-content/uploads/2019/04/full-sail-leadership-academy-logo.png
Tim Dittloff
2021-08-27 11:35:32
2021-09-13 08:09:48
The Importance of Team Building: How Confidence Affects Leadership Development