4
min read
Human history has sailed through the industrial age.  And the information age.  What age do we find ourselves living in today?
Professors Cailin O'Connor and James Owen Weatherall believe that we are currently living in "The Misinformation Age."
Trust is eroding from our culture in painful ways.  Life-shattering scandals are exposed so regularly that you start to expect them.
The advent of social media, big tech, and the competition for clicks has pushed fake news and false narratives to the front of our feeds.
Researchers recently discovered that fake news traveled "farther, faster, deeper, and more broadly than the truth in all categories of information."
It gets worse 😐
false news stories were 70% more likely to be re-tweeted than true stories
It took true stories around six times longer to reach 1,500 people
True stories were rarely shared beyond 1,000 people, but the most popular false news could reach up to 100,000
Many people feel as though they are in the middle of a sea of misinformation without a sail or rudder.
This is where you, as a leader, can – and should – step in.
We live in a society that is understandably skeptical.  Of everything.  Especially of those in authority.  This stacks the deck against a leader before you even start.
And yet, deep in the heart of every human being yearns a desire to trust.
Kids fearlessly jump into the arms of adults.  Couples still say "I do."  And Charlie Brown still wants to believe that Lucy won't pull the football away.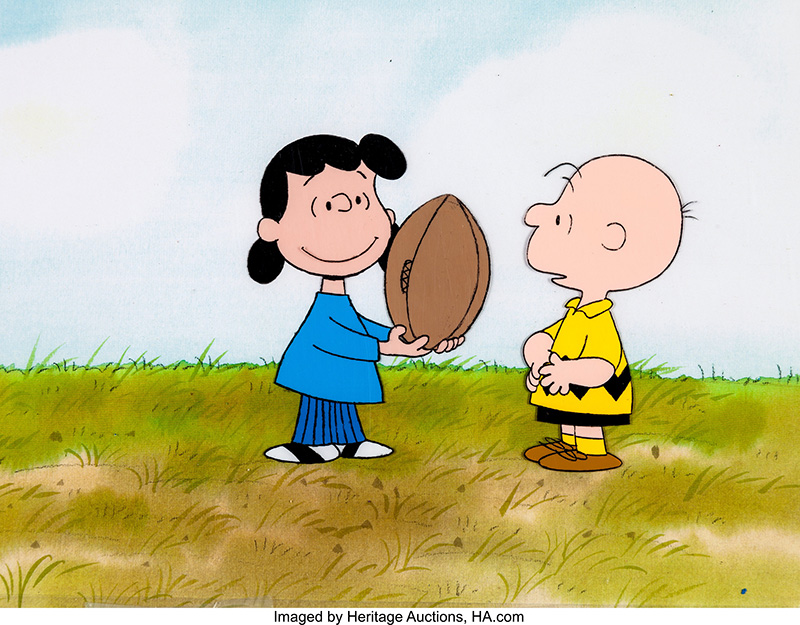 We can't help ourselves.  We want to trust.  Your employees, team, and clients – want to trust you.  But in this day and age, you will have to earn it.
How?
If you want to build trust among your team, you'll have to chart a counter-intuitive course.  You must be strong enough to acknowledge your weakness and demonstrate vulnerability.
Let's dive in as we continue our blog series in Current Leadership.
Leading with a Limp
It's been said that the only character flaws that are fatal are the ones that you are unaware of.  No one makes it into adulthood without earning some scars along the way.
Further, one of the distinctions that make us human is our limitations.  You can only be in one place at one time.  You run out of energy.  You have interests and demands beyond your business.
Just like your employees.
Many leaders feel that exposing their weaknesses will undermine their credibility.
The opposite is true.
Most of your employees are probably aware of your scars.  They know you limp.  They feel the effects.  What they may not know is why you limp.
They also limp.  In different ways for different reasons.  You feel the effects.
What do you think would happen if your entire team learned why people limp the way they do?
Trust would be built.
Now, this is not to be confused with a Strengths First Leadership model.  Leaders serve their teams best when they utilize their strengths.  Paradoxically, embracing your weakness allows you to lean on your strengths even more.
Vulnerability in the Workplace
In his book, The Advantage, Patrick Lencioni lays out how vulnerability is foundational to building trust in the workplace.  And it starts with the leader.
He suggests that leaders take their teams on overnight retreats to have focused, undistracted time together.
During the first night of the retreat, Lencioni challenges the point leader to plunge into the seas of vulnerability by sharing the most challenging thing they've been through in their life.
Gulp.
Many expect that when they pull their head up out of the waters, they'll be met with shame.  Instead, most find warm acceptance.  Gratitude.  Compassion.
And most feel relief.
Taking steps of vulnerability helps explain where some of our limps came from.  Money cannot buy the power those "aha" moments provide.
When a leader is transparent about their weaknesses and struggles, it permits the team to be human.
Once the leader charts this course, the team can follow.  And they will.  Your team wants to trust you and each other.  Vulnerability is essential in giving people the confidence they need to take the risk of trusting.
This allows a team to function out of their strengths because they don't feel like they need to hide their weakness.
Putting Vulnerability to Work
Perhaps an out-of-town retreat isn't an option for you right now.  But you are still eager to build trust in your team through demonstrating vulnerability.  What can you do now?
The primary step that healthy leaders must take is caring about their employees beyond what they can produce for the company.
Beyond this, you can make yourself accessible to fully listen to your employees.  It's imperative to cultivate a culture of dignity and respect if you want to build trust.
Brené Brown, a renowned research professor, lecturer, author, and podcast host suggests implementing these 10 practices to create what she describes as a "safe zone" for your team.
Reduce the amount of gossip and talking about one another behind their backs.
Admit when you are wrong, make mistakes, and readily apologize.
Let go of holding grudges from the past.
Understand and appreciate one another's work styles and strengths.
Be open and practice information sharing.
Take time to learn about each other on a more personal level.
Looks for ways to give credit to others.
Acknowledge and celebrate the successes of others.
Share openly both your failures and successes.
Give your team members the benefit of the doubt before jumping to a negative conclusion.
Here's what might be the best part about creating a healthy culture in the workplace.  Anyone can do it.  You don't need to have the reach or resources of a Fortune 500 company to cultivate trust in your workplace.
Tools You Can Trust
This is what we do.  We are passionate about helping leaders steward the remarkable privilege of their position.
If you cultivate a healthy workplace, you will achieve so much more than a healthier bottom line.
Consider how families, friendships, and neighborhoods would benefit from your employees enjoying their workplace.
We believe that we can make the world a better place by making workplaces better.
Our workshops are designed to reach this destination.  We offer more than a sailing experience.  It's an exercise in building trust, working together as a team, growing in respect, and even enjoying some quality time together.
Let this be the day that you set sail toward a healthier horizon. Reach out now for a free consultation and learn how we can help you chart these waters.
Building Team Connections & Engagement with Steward Leadership, Strengths & Sailing
https://fullsailleadership.com/wp-content/uploads/2022/04/acknowledge-weakness-workplace.jpg
630
1200
Tim Dittloff
https://fullsailleadership.com/wp-content/uploads/2019/04/full-sail-leadership-academy-logo.png
Tim Dittloff
2022-04-19 15:59:35
2022-04-20 06:03:24
Acknowledging Weakness Charts the Course for A Strong Workplace