Self-Mastery on the Seas: Daily Debrief in the Life of a Steward Leader

(c) 2021 Full Sail Leadership Academy
4
min read
There's always more to learn in all aspects of life.
Even masters of their craft will tell you they know nothing. Such is the nature of life.
Taking in our surroundings to adapt our behavior and mindset is a lifelong approach – not a one-off strategy.
As I was recently reminded during our latest Full Sail Workshop, I have plenty more to learn about steward leadership. Every day and every interaction is an opportunity.
Every Moment is an Opportunity for Leadership Coaching
What can a navy seal sailing an 82' classic schooner teach you about leadership?
Simply put, more than you might think.
I recently had the pleasure to sit in on a training program led by former Navy SEAL Mark Divine. Divine talked about developing self-mastery of our skills and mindset to serve others to the fullest ability.
He stressed that only after we get past our own limiting beliefs and lack of skill can we fully engage ourselves to serve others and be a true steward of a team.
The authors of the book Steward Leadership – A Maturational Approach reinforce this message as well. However, it wasn't until we did a team debrief after a recent Teams on Course ™ workshop in the Florida Keys that my learning came full circle.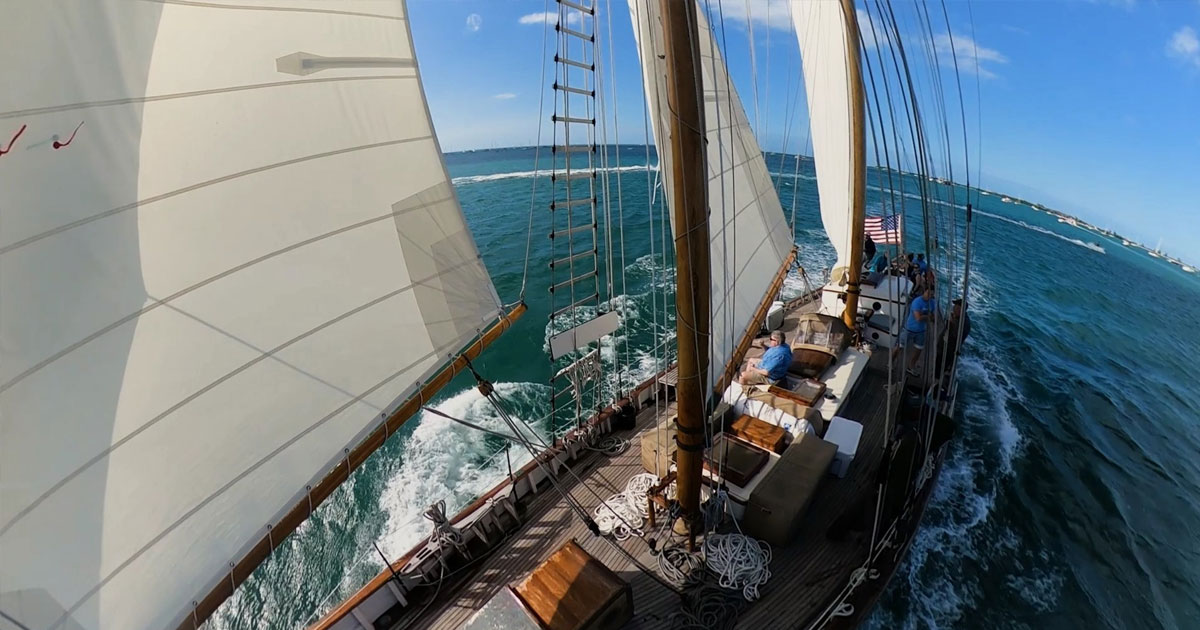 Old Dogs Learn New Tricks in Team Building
We enjoyed the stout and beautiful winds for the sailing portions of our Teams on Course ™ workshop. Our chartered vessel went by the name When and If.
But this isn't just any sailing vessel you'll see on a Sunday afternoon on Lake Michigan. This is the boat General George S. Patton commissioned famed naval architect John Alden to build for him.
Patton so eloquently named the vessel When and If proclaiming "Bea [Patton's wife] and I are going to sail this vessel around the world when and if the war ever ends."
The boat is a two-mast schooner. Imagine – all original masts from the moment of its first launch.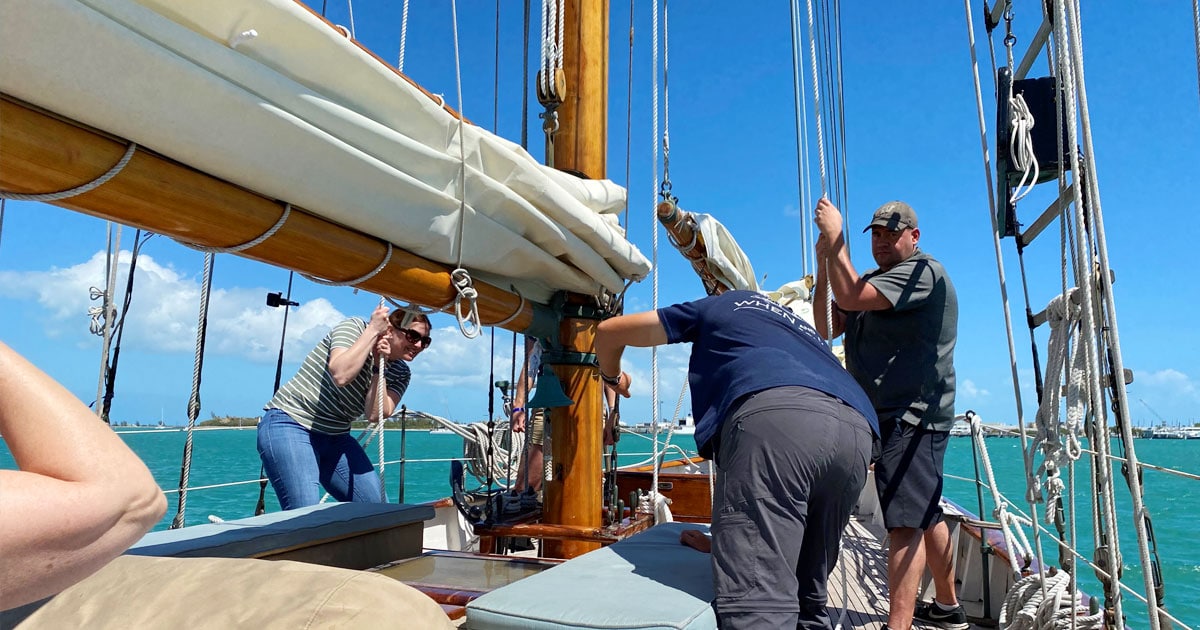 If you aren't familiar with sailing, even sailors experienced in modern sloops required some "on the job" training to manage the beauty's rigging system.
The learning experience also served as a pertinent reminder for the corporate workplace: When organizations onboard fresh staff members, teaching a team's shared language is critical for achieving success in respect of the mission.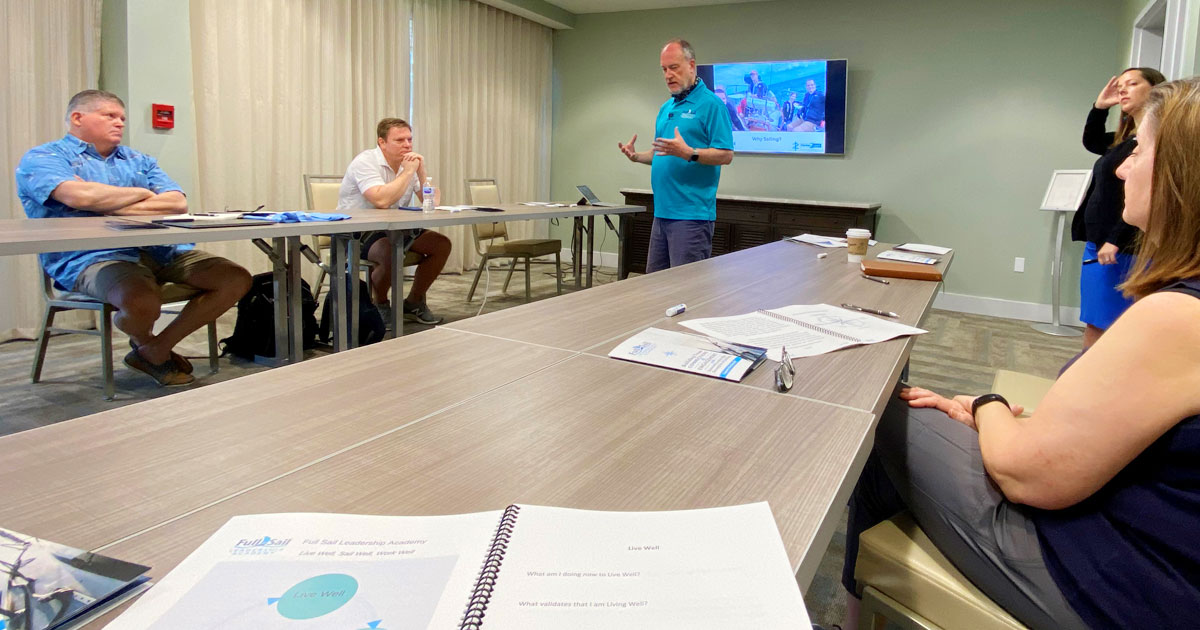 The Ethos of Steward Leadership
In the classroom portion of our workshop, we discussed the importance of maintaining a personal and corporate ethos.
The essence of this ethos doubles as a code of excellence, as Commander Devine describes in his book Unbeatable Mind:
"Excellent results in life are the result of hard work built on a personal code of excellence. I call this your personal ethos. Defining this ethos requires deep introspection and skillful methods leading to a continuous pursuit of self-knowledge and growth. Life without a personal ethos can leave you directionless, not able to answer the question, Why? when faced with life's many challenges"
Just as individuals can develop a personal ethos, organizations can develop them as well – and they should. For Divine, this includes the Naval Special Warfare ethos embodied nicely in this passage:
"We demand discipline. We expect innovation. The lives of my teammates and the success of our mission depend on me – my technical skill, tactical proficiency, and attention to detail. My training is never complete."
Verbosity is nice, but why bother?
What purpose does an ethos statement serve in a corporate organization?
For starters, it uses a simultaneously shared yet unique language across the entire organization. Also, it dictates a specific yet flexible roll as the chief steward of the organization – in other words, shared qualities with room for individuality.
Again, words are nice, but they're nothing without action. How does ethos translate into action?
In one way, the ethos provides a dogma for holding team members accountable and caring for them on a personal level – all in relation to their job performance.
The ethos statement should always reference how team members utilize their strengths for the greater good of others, the customers, and the overall organization.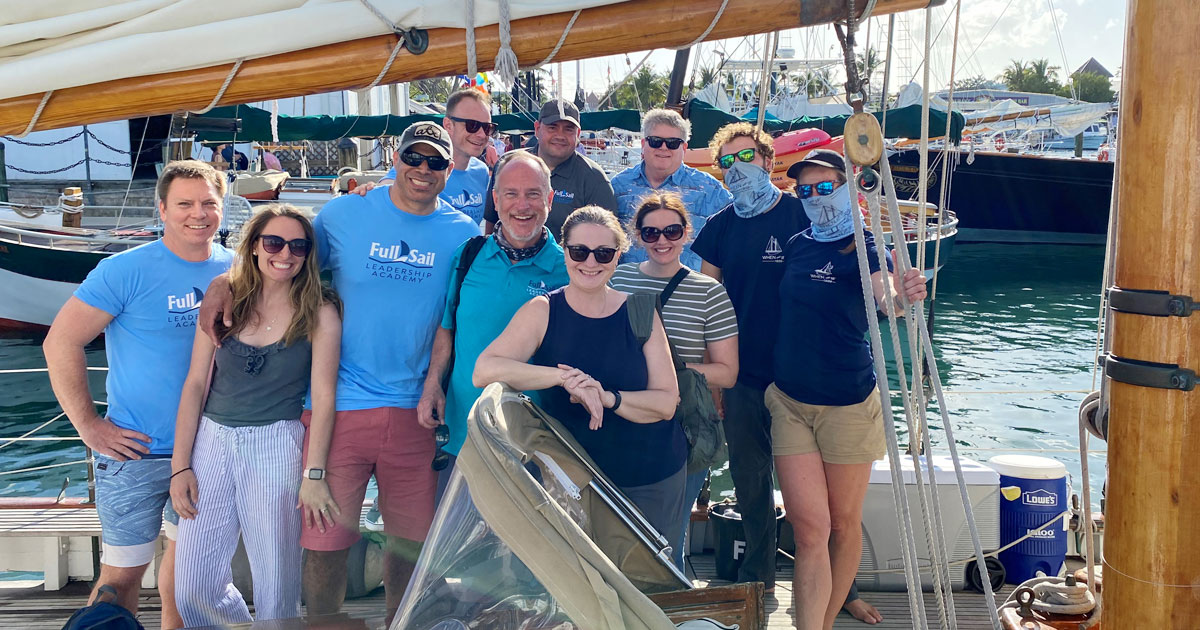 Taking Our Experience Back to Full Sail for Leadership Coaching and Team Building
Post-workshop, our team did a deep dive to evaluate our performance-based largely on our ethos statement. The incredible experience we gained will embolden the value of our future Full Sail workshops with a fresh approach about:
How we as steward leaders can optimize our organization to benefit our customers.
How to identify our most important strengths that will help our clients discover their strengths to the fullest
How to maximize our client's value from their first investment with us, in both time and money
How to prioritize a culture of psychological and emotional safety in an organization to create an environment where learning can thrive
As you become a steward leader, remember that you need to need to breathe, pause, think, and act so your team becomes stronger and serves your customers better.
Just like we needed some "on the job training" on the classic boat, your organization can benefit from a culture of learning and quest for knowledge.
Join us on our next adventure for a similar yet totally unique experience. Our next Full Sail Summit Workshop embarks from Salem, Massachusetts. We'd also be happy to serve you on Lake Michigan, Lake Erie, or the Seattle area waters during the months of May- October. Contact us for more details.
https://fullsailleadership.com/wp-content/uploads/2021/05/steward-leadership-workshop.jpg
630
1200
Tim Dittloff
https://fullsailleadership.com/wp-content/uploads/2019/04/full-sail-leadership-academy-logo.png
Tim Dittloff
2021-05-13 17:58:21
2021-05-19 17:28:55
Self-Mastery on the Seas: Daily Debrief in the Life of a Steward Leader