How (and Why) to Use Faith Over Fear as a Successful Steward Leader

(c) 2021 Full Sail Leadership Academy
4
min read
Fear can drive you to do disastrous things you'll later regret. When we're confronted with a challenge, our brain's fight or flight response kicks in – our fear instinct.
We react irrationally without thinking through the full range of possibilities and consequences. On the open water, fear-based thinking is dangerous because it leads to fear-driven action. Fear that's not addressed when the seas are calm inevitably leads to trouble when disaster strikes.
That's why every experienced captain understands the importance of leading from faith over fear on his sailboat. Just like sailing captains, your steward leadership charts the course for either fear- or faith-based decisions at your organization. Today's uncertain and treacherous waters leave no room for fear. One poor decision made from a point of fear can lead your company down a dark path from which there's no return.
Unsurprisingly, today's remote workers report heightened fear and other negative emotions: 54% feel worried, 46% report anxiety, and 62% say they're stressed.
As leaders, we must prioritize faith in ourselves first so we can lead from faith in good times and bad.
Why Faith Over Fear is the Key to Steward Leadership
As a leader, your job isn't to bark orders, point out faults, and punish workers when they fall out of line or don't meet expectations. The best leaders know that they must fill a role as caretakers of the soul for everyone across their team.
Your team already faces enough fear around every turn:
Economic uncertainty
Missing deadlines
Feuds with coworkers
Losing income and livelihood
Not living up to management expectations
Letting coworkers down
Poor company performance and the consequences
They don't need more fear-based leadership radiating from your presence every time you walk by.
Instead, it's your job as a leader to exude faith to and for your team. Faith that:
They are capable and prepared to handle the route ahead.
You'll support their decisions made in good faith.
The organization is invested in their outcome and best interest.
Their coworkers are there to offer critical support.
This faith over fear mindset allows you to become a steward leader who protects his team and creates a safe place for them to thrive. Steward leaders are caretakers: They ease fears, supply tools, and offer support so the entire team can function at optimal capacity.
What Does Fear-Based Leadership Look Like?
It only takes one cataclysmic event for teams running on fear-based leadership to fall apart when it matters most.
Exploiting Weaknesses
Things like performance evaluations and meeting callouts do nothing but instill fear across every member of your organization.
When performance is judged by shortcomings, employees grow reluctant to speak up when there's a problem they might get blamed for. Issues go unaddressed until they evolve into unavoidable roadblocks.
People point fingers to assign blame instead of finding the root cause of problems and working together to fix them.
Reactionary Thinking and Action
Fear-based leadership leaves you in a constant state of reactivity.
Since you're chronically focused on your team's weaknesses and shortcomings, you end up stuck ten minutes in the past backtracking, fixing yesterday's problems, and dishing out punishments.
Again, this reactionary thinking causes us to ignore a problem's root causes. Instead of fixing our boat's structural problems, we patch the holes and hope they don't leak again – but they always will.
Defensive Team Hostility
A fearful team operates from a defensive, and often hostile, disposition.
Your employees and colleagues show up to work every day worried about potential mistakes they've made that will be uncovered today and how leadership will react.
Everyone responds to criticism and complaints – even genuine ones – from a defensive state, seeking to avoid the full range of blame and its consequences. This leaves your team wholly distrustful of each other.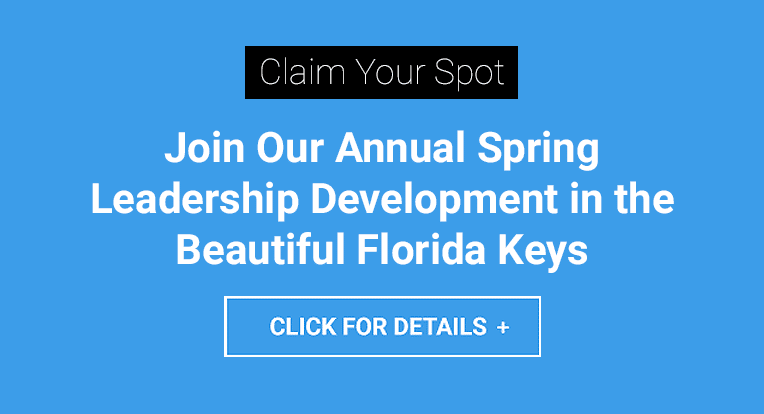 What Does Faith-Based Leadership Look Like?
When a leader prioritizes faith over fear, their team trusts them – and each other. Your team will know you have their back and you're invested in their best interest.
Focusing on Strengths
Faith-based leaders operate under the assumption that people are generally well-meaning and want to do their best.
Instead of punishing weaknesses, you uplift people based on their unique strengths. You celebrate their individuality instead of forcing them to fit into boxes.
Rather than operating in fear, employees become excited to share their accomplishments and take on the next challenge as a team.
This could translate into removing traditional performance evaluations, reassigning responsibilities for employees, and just adapting a supportive mindset overall.
Proactive Responses
It's always easier to prevent problems from happening instead of cleaning up after them.
As every sailor knows, regular boat maintenance and cleaning are key to keep your vessel in top shape. Otherwise, something could go drastically wrong at the worst possible time.
When you run on faith over fear, you lead proactively. You look for conditions that might create rocky water ahead and chart a new course.
Proactively preventing problems means no one is ever assigned blame, punished, or fearful.
Honest and Open Communication
Fearful employees don't speak up when something might go wrong. They've learned to keep their heads down and avoid making waves.
Steward leaders foster an environment where their teams trust each other.
With widespread trust, people feel comfortable voicing concerns, problems, and mistakes because they know they won't be punished. They also know that the issue will be addressed appropriately without anyone losing their job or being put in the corner.
People need faith in both leadership and those around them before trust can build.
Steward Leadership is Always the Answer to Trials and Tribulation
By definition, steward leadership makes you the caretaker of your team. Instead of promoting fears and exploiting weaknesses, it's your job to lift up each individual worker's strengths and create a trusting environment.
Effective steward leadership doesn't happen overnight. People won't suddenly trust you just because you've said something nice. It takes real actions, consistency, and time. Once your team realizes that you're prioritizing faith over fear, they can learn to trust you. Next, they'll start building trust and openness with each other.
That's the goal and it's the key to long-term success via steward leadership: the only caring way to lead and the only successful style for managing today's uncertainty.
Are you ready to chart the course towards faith over fear steward leadership? Space is still available for our exclusive spring leadership workshop in the Florida Keys aboard General Patton's historic yacht. Claim your spot now!
https://fullsailleadership.com/wp-content/uploads/2021/01/faith-over-fear.png
630
1200
Tim Dittloff
https://fullsailleadership.com/wp-content/uploads/2019/04/full-sail-leadership-academy-logo.png
Tim Dittloff
2021-01-13 13:15:02
2021-01-13 13:52:15
How (and Why) to Use Faith Over Fear as a Successful Steward Leader