Don't Let Fear Sabotage Your Team – Learn to Manage It and Adapt

(c) 2020 Full Sail Leadership Academy
5
min read
Fear is everywhere.
In many ways, we wouldn't survive without a healthy dose of fear.
Fear prevents us from walking into traffic or balancing on the edge of a cliff.
Originating in the amygdala, fear is a fundamental component of shrewd decision making.
But like any emotion, the key is balance and management.
If we lose control of how to manage our fears, they overtake us.
We stop taking risks. We internalize. We become stagnant.
On the other hand, without fear, we operate indiscriminately as if consequences don't exist.
The same thing happens across teams – and it can sabotage an entire company's success.
How Fear is Paralyzing Your Workplace
On a sailboat, fear can be everywhere we look: the unrelenting water, the wind, the unknown.
Even the reliance of other sailors can invoke fear – what if we can't trust them to make the right choice in rough water?
The same is true of any business. Workers face different fears every day: unhappy clients, scolding from bosses, letting down other workers, potential layoffs.
Like on a sailboat, these fears can paralyze a workplace if they're not confronted and managed.
Fear prevents us from making rational decisions. Over enough time, sustained fear can impact memory, emotions, and other psychological processes.
Think of the fight-or-flight response.
It's useful if you accidentally step into the street, see a car barreling towards you, and quickly jump out of the road. But living in a sustained fight-or-flight state would cause intense generalized anxiety – everything becomes a threat.
Even in cases where our fight-or-flight instinct kicks in, we wouldn't want it to cloud our judgment and overtake our actions completely. Jumping out of the way to avoid a car won't help if you jump into another lane filled with traffic.
What Does Fear Look Like in Organizational Behavior?
Over time, sustained fear mismanagement leads to burnout.
Fear is also contagious. On a ship, we'll isolate a sick sailor to prevent infecting the entire crew. An outbreak on a ship at sea is a disaster.
Within an organization, fear spreads like fire. It infects individual workers, departments, roles, processes, relationships, and revenue.
Here's what a fear outbreak might look like across a business:
Personal fears: Letting down coworkers, missing deadlines, unprepared for meetings, alienation from goals and outcomes, etc.
Business fears: Departments in frequent disagreement, unclear goals, low confidence, lack of honest communication, low morale, etc.
Existential fears: Unstable markets and economic outlook, automation and AI, changing culture, layoffs, etc.
5 Strategies and Techniques to Manage Fear and Avoid Sabotage
You can't avoid fear completely. It's a healthy reaction to instability and danger.
Instead, focus on confronting and managing fear. Turn fear into a useful tool for communication, dedication, and growth.
1. Prioritize Psychological Safety
We've all been in situations where we feel psychologically unsafe.
Verbal abuse, gaslighting, emotional manipulation, lies – these all take their toll. Over time, we build unhealthy coping tools and adapt learned helplessness. We stop speaking up and setting boundaries.
On the sea, a lack of psychological safety is dangerous. Imagine if the first mate was afraid of stepping on toes so he didn't alert the captain to an oncoming iceberg! That's how the Titanic sunk!
The same is true of a workplace. If someone is afraid of being reprimanded or attacked, they'll never speak up.
A psychologically safe environment is where:
People feel obligated to speak up when something's wrong.
People are held accountable for their actions.
Disagreements aren't inherently aggressive – certain words and actions are.
Asking for help isn't viewed as annoying or poor character.
Decisions and risks are made for the good of the organization.
It's not about creating a safe space where everyone says and does what they please without consequences. If people feel psychologically safe enough to say rude things or give detrimental advice, that's not safe for others either.
That's why accountability is critical.
2. Develop a Strength-Based Organizational Attitude
Everyone hates performance reviews, don't they?
Why? Performance reviews or employee evaluations are frightening situations. They drum up all kinds of fearful thoughts like
Have I accomplished enough this year?
Are layoffs coming?
Is my raise on the line?
What did I do wrong this time?
I know this might be surprising, but no one likes to be reminded of their weaknesses. We all have weaknesses we could stand to improve. Unless they routinely make other people's lives harder, then why are weaknesses even worth addressing?
Instead, eliminate fear by focusing on strengths.
Talk to team members about areas they truly excel – and what they dread.
Whether on a sailboat or at workplace, teams perform best when everyone plays up their personal strengths.
This doesn't mean, however, that we should ignore major shortcomings to avoid hurting someone's feelings. In most cases, however, we can avoid a situation where someone's weaknesses are on full display by promoting the use of their strengths from the beginning.
3. Promote Positive Conflict and Accountability
Conflict is painted in a negative light far too often.
We've all seen relationships between two partners who never fight. It's almost eerie – surely no one can avoid conflict forever.
Most times, a lack of conflict means people aren't speaking up about problems.
Those problems just bubble below the surface until they pressurize and explode.
No matter the situation, people avoid conflict from fears of:
Being attacked or shouted down
Hurting another person's feelings
Looking stupid or emotional
Failure to enforce boundaries
Many times, a worker is eager to express their grievances – at first. Later, when no one is held accountable, boundaries are ignored, and nothing changes, they stop speaking up. What's the point?
Conflict turns positive when two things happen:
People trust they won't be attacked or get anyone in trouble for speaking up.
Others are held accountable, respectfully, for their words and actions.
4. Build Trust to Learn About Their Fears
We can't assume people will suddenly be comfortable speaking up after years of bad experiences.
If we want to know our team's fears, we must ask them.
It takes time to earn trust. People need to know they'll be respected before they'll speak up. They need to know leaders will provide honest and transparent answers.
Team building exercises are excellent tools for jumpstarting a new culture centered around trust.
On a sailboat out on the open water, leaders and teams must work together toward a common goal in a way they never have before.
Teams can take that new attitude back with them to the workplace and apply the principles of trust.
Trust is paramount.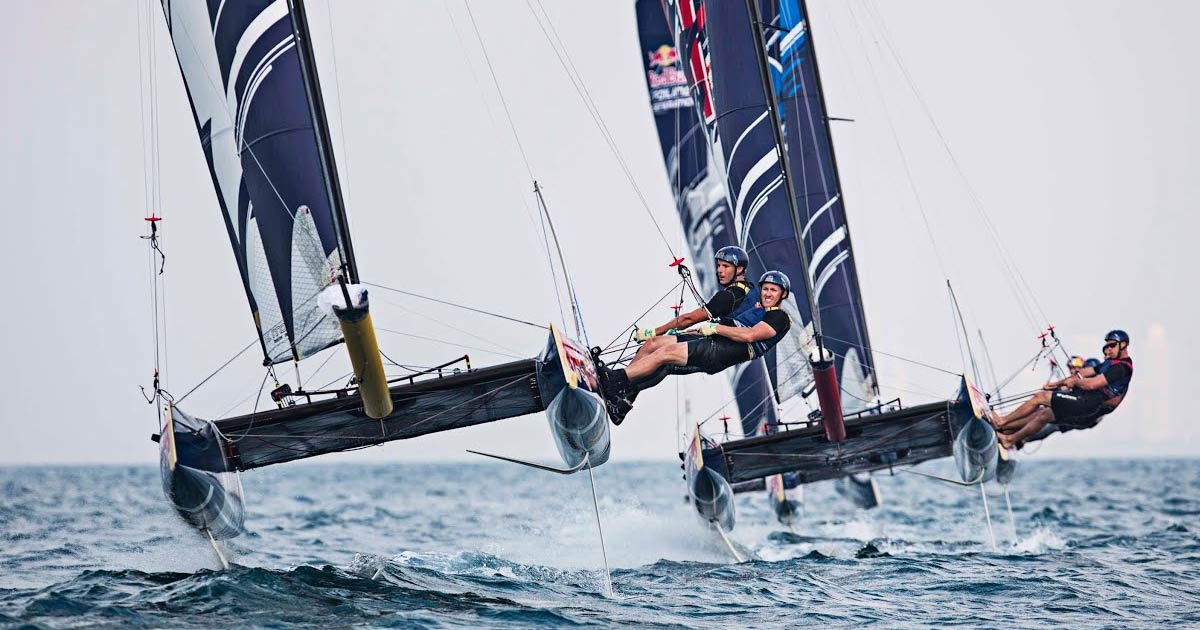 dailystoke.com
5. Offer Transparency and Stability in Times of Uncertainty
We're all facing rocky waters right now with no end in sight.
Workers are anxious about layoffs, economic downturns, automation, and acquisitions.
Leadership owes them transparency and stability.
If you don't know something, say so. Don't sugar coat things.
At the same time, routines and rituals can help create a pillar of stability in troubled waters. Routine is your lighthouse.
Science shows rituals – no matter how small – calm our nerves. They offer a semblance of control when everything feels out of our control.
Ask any sailor. They'll tell you their favorite ritual before embarking, like wearing a certain cap or putting on a life vest in a certain way.
Don't Let Fear Run Your Life – Don't Let It Dictate Organizational Behavior Either
I've seen countless businesses at the brink of succumbing to widespread fear. By fostering steward leadership, business leaders can turn an entire organization's attitude around.
It won't happen overnight. Effective team building takes time, effort, and dedication – especially from those in leadership positions.
Tackle business fears on the open water. Learn how Full Sail Leadership development and team building workshops can increase productivity and communication.
https://fullsailleadership.com/wp-content/uploads/2020/09/fear-sabotage-workplace.jpg
630
1200
Tim Dittloff
https://fullsailleadership.com/wp-content/uploads/2019/04/full-sail-leadership-academy-logo.png
Tim Dittloff
2020-09-14 12:35:36
2020-09-30 06:05:16
Don't Let Fear Sabotage Your Team – Learn to Manage It and Adapt