9 Essentials of Steward Leadership Development for Engaged Teams

(c) 2021 Full Sail Leadership Academy
5
min read
Today, the term "steward" refers to someone called to look after the passengers aboard a ship – a caretaker.
I've found that steward leadership results in engaged teams who are invested in the organization's mission, vision, and values.
Unfortunately, this is a challenging concept to grasp. Leaders tend to assume a controlling role over their employees – as if workers are a form of capital to be shaped as the company desires.
"I pay these people a good wage, what else could they want from me?"
You can't just throw money at disengaged teams and expect them to suddenly become productive. Studies show that 60% of workers will consider leaving a position if they feel their work isn't captivating enough.
Steward leaders, on the other hand, invest in both the financial and emotional well-being of their employees.
Stewards care about the lives and hearts of their crew outside the office walls.
When workers feel valued and respected instead of alienated and reduced to a financial figure, an amazing synergy happens: those team members become the stewards of the organization's mission, values, and vision.
What is Stewardship in Leadership Development?
In 2013, Julia Kukard, Kurt April, and Kai Peters published an important book called Steward Leadership: A Maturational Perspective under UCT Press.
According to the authors, steward leadership is "a form of leadership that focuses on others, the community and society at large rather than the self." They explain that a lot of senior leaders tend to adopt a steward leadership outlook naturally as their careers mature.
Mature and experienced business leaders know you can't force productivity out of people. They know a team needs to feel respect, compassion, and inclusion before they'll engage wholeheartedly.
How Does Steward Leadership Differ from Servant Leadership?
Under servant leadership, the leader exists to serve the team members. With traditional leadership, it's the other way around: the team serves the leader.
Steward leadership is different: a steward leader cares for the team members, the organization, and society as a whole. Their actions are done in the interest of growth for the organization's mission, vision, and values.
Living through example, steward leaders attract talent who hold the same values.
9 Essential Components of Stewardship in Business
Community building, responsibility, and trust within an organization all hinge on these nine components:
Personal Vision
Personal Mastery
Shared Vision
Mentoring
Vulnerability and Maturity
Valuing Diversity
Experimentation and Risk-Taking
Raising Awareness
Delivering Results
Steward leadership, as an attitude, starts with a person who embodies these characteristics.
When you're out on the water, and things get rocky, what happens? You band together with fellow crew members around a shared vision: getting to shore safely. That shared vision leads to self-governance, which keeps the individual and organization on course.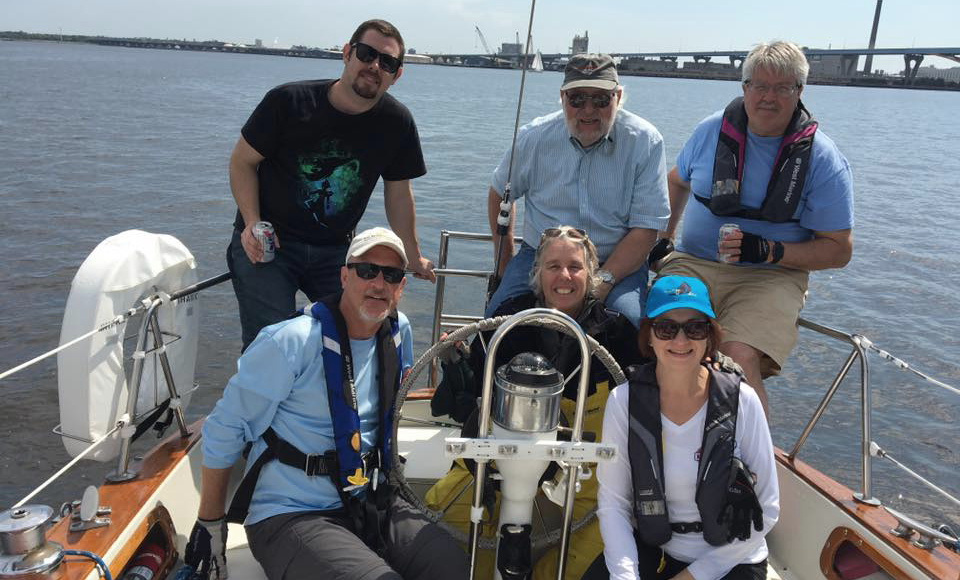 A steward leader should inspire trust in team members. No one can put themselves into a vulnerable position without complete trust. People must have faith before they speak up, brainstorm, and offer constructive criticism openly.
Widespread trust empowers team members to adapt their operations and promote the organization's growth.
Steward leadership can't manifest without maturity.
It takes maturity and vulnerability to build healthy inter-dependent relationships, rather than toxic codependent ones.
A mature and emotionally intelligent leader realizes they are only as successful as the team they've assembled. No single person has the answers 100% of the time.
Emotional intelligence and maturity allow a leader to step back and invest in the people around them, when necessary.
In our blog, you can find countless case studies of companies across the country that have accomplished amazing things through stewardship leadership development. Repeatedly, a caretaker mindset delivers incredible results.
I've seen companies on the brink of collapse pull through – and thrive – after transforming their attitude in favor of steward leadership.
Steward leadership begins in the heart. Have you ever seen someone forced into therapy by a spouse or family member? Nothing changes if they don't have a genuine desire and commitment to change themselves.
To become a steward leader, a person must commit to empathy and encouragement across the team.
Using Steward Leadership Development to Weather the COVID-19 Crisis
John F. Kennedy once said, "Ask not what your country can do for you, but what you can do for your country."
A steward leader asks what they can do for their company – especially in times of crisis.
Throughout the COVID-19 pandemic, we've seen companies do extraordinary things to assist their workers:
Embracing pets and children in the workplace
Sending pints of gourmet ice cream and essentials
$250 Amazon gift cards
Asking team members to introduce their kids or pets during Zoom meetings
You can bet the companies who adapted steward leadership principles like these will come out of this crisis in much better positions than others.
Here are a few examples of ways companies have risen to the challenge of stewardship during today's trying times.
Incorporating Families
Goodway Group hosted a half-hour "Family Fun Friday" so workers could introduce their kids. Jillian Gap, Goodway Group's People Experience Director, said it included "music, magic, and laughs."
Everyone could use a lighthearted break, especially taxed working parents.
Other companies like F&B NY, The Media Kitchen, and PubMatic also tried to lighten the mood by encouraging teams to bring kids, pets, or a glass of wine to lunches or meetings.
Wellness Programs
Salesforce took major strides towards worker wellness by launching a series of programs and initiatives. The Thriving Mind benefits program provides mental and emotional health resources for employees and their families.
Meanwhile, the B-Well Together twice-daily broadcast connects industry luminaries with their employees to discuss wellbeing.
Salesforce also made Plum Village's Zen Meditation App available to all its workers through the Salesforce App Catalog.
Material Support
People can't concentrate on work when their basic needs aren't met. During COVID-19, Salesforce and many other enterprises launched employee assistance programs to help lift workers out of survival mode.
It's never been more obvious that every team member faces a different reality and struggle. Steward leaders know not every worker needs the same help. That's why you see companies like Salesforce jump into prioritizing conversations and connections.
Stewardship Impacts All of Society – Not Just the Company
Treating workers right doesn't only benefit the company – it improves society profoundly.
Bob Chapman, the CEO and Chairman of Barry-Wehmiller, views his team members as "someone's son or daughter, mom or dad, brother or sister."
He points out that his attitude and treatment create a ripple effect: how we treat our team members impacts how they treat their family at home and everyone in their lives.
Think of it this way: how many times have you seen someone lash out and said to yourself, "wow, I wonder what they went through today?"
Taking a few moments to treat workers with dignity, respect, and care can lead to healthier families, quality marriages, and a more wholesome society.
A steward leadership mindset creates team members who share a genuine investment in the company's vision, values, and mission. When team members care about all business aspects, engagement improves, and productivity soars.
Learn how to become the steward of your team with Full Sail Leadership's COVID-compliant workshops.
https://fullsailleadership.com/wp-content/uploads/2020/08/what-is-steward-leadership.png
630
1200
Tim Dittloff
https://fullsailleadership.com/wp-content/uploads/2019/04/full-sail-leadership-academy-logo.png
Tim Dittloff
2020-08-12 18:03:52
2022-09-18 07:31:04
9 Essentials of Steward Leadership Development for Engaged Teams